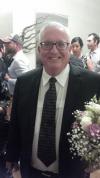 Timothy Marshall
Born: April 27th, 1958
Passed on: May 4th, 2020
Timothy Alexander Marshall passed away on May 4, 2020 at the age of 62 following complications from surgery and a brief battle with cancer.
Tim was a good man, a loving father, a gentle soul, a stalwart brother, a servant to his country, a solid business colleague, and a passionate diver and dive instructor. Thoughtful and caring, he had a great sense of humour (often self-deprecating) and both time and a generous smile for anyone in his circle. But, regrettably, his time and his dive watch ran out.
Tim is survived by mother Mabel; his children Jennifer, Jacob and Lauren (Askew-Larson); his brother David (sons Matthew, Andrew), sister Janet, and sister Nancy (Doug Pigot, daughter Hannah, son Harry). He was predeceased by his twin brother James and his father Alex.
Born on April 27, 1958, he grew up in Edmonton Alberta. Tim enrolled in the Canadian Forces in 1976 and was commissioned upon graduation from the University of Victoria in 1980. He was an officer in the Corps of the Royal Canadian Electrical and Mechanical Engineers, obtained an MSc in Industrial Engineering at the University of Arizona (Tucson), and served the Canadian Army and his country for 23 years before retiring as a Major in 1999. He continued to work in his chosen field for a number of firms including Acres, Altus, Stantec, 4Tell Solutions and finally Roth IAMS. Invariably his ability to lead and inspire people had a profound impact on those with whom he worked and the clients he supported.
Tim's passion was two-fold – his family and diving. Tim was "buttons-bursting proud" of his family – Jenn, Jacob and Lauren. Three very different young adults whom he loved with all his heart. He quietly commiserated when they stumbled and reveled loudly in their successes. They brought out the best of one another. Tim loved to travel and scuba dive, whether it be under the ice in Ontario, swimming with sharks and diving the Bahama's Blue Hole, or instructing and guiding novice divers while on Blackbeard's Cruises in the Caribbean. He was dedicated Scuba Instructor with Simcoe Diving and formed deep friendships with his "dive buddies" that will be treasured for many years to come.
And when he could combine travel with family and friends, life could not have been better.
Tim was a good man.
Celebrations of Life will be held in Barrie, Ontario and Victoria, BC when the current concerns regarding travel and group gatherings have eased.